Top Features to Consider Before Buying a Watch Winder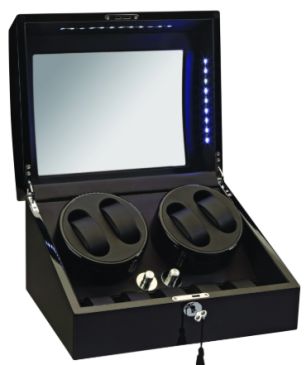 Watches are a timeless piece of accessory that has only become exceedingly popular, over time. Numerous men and women drop thousands of dollars to purchase intricate, classy pieces. It has become something of a status symbol, much like owning a high-end car.
While some timepieces do not have to be manually wound, automatic watches need the shift in weight provided when worn, to initialize movement within a watch. A watch collector would own several watches, which leads to watches not being worn on a regular basis. This leads to the watch parts losing its lubrication and over time, it's accuracy.
Therefore, it is key for an owner of high-end watches, to buy a watch winder—a box with an automatically spinning cup, in which the watch is placed and wound.
While there are plenty of watch winders out there, how do you know which one to spend money on, to get the best use for your watches? Here are some of the key features you should watch out for:
Presentation:
When you own a gorgeous piece of accessory, you want to present it accordingly. Depending on the style of your collection and your personal taste, invest in a watch winder that compliments the aesthetics of your watch.
Storage:
As is the case with most collectors, there is a variety of watches and investing a watch winder with numerous slots for your individual collectibles does an excellent job safeguarding them from scratches and damage. Having a designated place for them all together ensures you do not misplace them either.
Sound:
In case you are unaware, the motors used in watch winders, if not of higher quality, maybe very noisy. This is because of the sub-par nature of the motor. If your watch winder is too loud, you will have to ensure it is in a place that can not disturb you as it rotates throughout the day. If you are buying your watch winder online, make sure to check the reviews about how loud it is.
Material:
As mentioned earlier, your box winder is an excellent way to store and display your precious watches. It is therefore very important that you ensure the material used is of the highest quality. The wood used, if not of high quality, will cause accumulation of moisture, destroying the box and eventually the valuable watches within. Fine wood or premium grade kiln-dried wood is some good quality wood to look into. Similarly, it is important to check the quality of the motor used as well. A motor not capable of handling a mechanical watch may seem to work fine initially but give out quickly, due to its quality. With time, it will destroy the mechanics of the watch.
Price:
While it is true that price is not always a true indicator of quality, in the case of watch winders, this rule does not necessarily hold true. In the same way that high-end cars require premium gas, special servicing, and maintenance, a high-end watch needs to be taken care of as well. Buying a cheap knock-off watch winder may save you a few bucks upfront, but the damage it can cause to your watch would be a much bigger loss in the long run. While the price may be on the higher end, this is an investment for your valuable possessions.
Some Popular Brands:
Rapport: This high-end British brand, established in 1898, has created quite a reputation amongst the Watch industry. Their classy designs, elegant finish and wide range of colors give them an edge over the other in the market. They also manufacture watch cases, luxury clocks, collector cases, and various other watch accessories.
Orbita: While much younger than their counterparts, having been established in 1996, this widely successful brand uses a unique 'rotor wind system' that causes the winder to swing rather than spin. Orbita is known for producing high-quality products in the watch industry.
WOLF Designs: Established back in 1834, this iconic watch brand prides itself on its creation and manufacturing of high-end leather products—pursuing perfection, style and luxury.
Conclusion:
If you are a proud owner of a luxury watch, a quality watch winder is a smart (and necessary) investment to ensure the look and performance of your watch. A little extra spent today will go a long way.