How to Shop for Women's Bike Shorts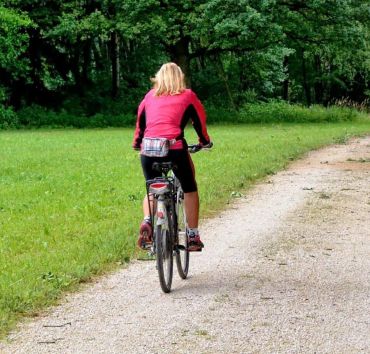 Some people may wonder why "bike shorts for women" even exist. After all, there are a billion other kinds of shorts anyway! Why not just use one of those? Well, we'll have you know that bike-specific clothing is designed specifically to aid your ride and make it more comfortable. Whether you're on the road, commuting back and forth from work, or just hitting the trail, women's bike shorts can make all the difference in making your ride smooth and easy. Besides, they also help you ride longer and perform better!
Bike Shorts for Women Vs. Men: Is There Really A Difference?
There are many differences between men and women's cycling apparel, more than you can imagine. To begin with, women have a much wider range of options to choose from: there are all kinds of bike short for women to suit a plethora of body types! You have your skinny-girl fit, the petite type, the regular woman, and the plus size. But the real question is, is that all you need to know before trying to pick out a pair of bike shorts for you? What are some of the other factors you need to take into consideration?
Fun Fact: Bike Shorts Do Not Require Underwear
Before we take a deep dive into how to go about shopping for women's bike shorts, here is a fun fact. Bike shorts are worn without underwear. If this thought made you squeamish, fret not, for you are not the first one to react quite this way. However, keep in mind that bike shorts have substitutes for underwear sewn right into them, so you're in good hands. Now, back to the list of factors…
1. Finding the Right Fit
Cycling is uncomfortable enough for people, especially when they take it up as an activity of physical exercise. The last thing you want is to pick out a pair of bike shorts that don't fit you well. The good news is that more often than not, you can't go wrong picking out the right fit in bike shorts for women because they don't vary much on the size chart.
However, an interesting fact is that the waist and hip measurements are much larger than a man's bike shorts! This means that the leg rippers in bike shorts for women are often designed to support more weight around the hips and legs. Remember that there are special cuts available for all body types, so you needn't worry. Keep in mind that above all else, including design, shape, print, etc., comfort must be your #1 priority.
2. A Good-Quality Chamois Pad
You read that right, ladies! Bike shorts of all kinds come with pads attached to the pelvic area so as to cushion it while cycling. This is not specific to ladies (whoever thought men would wear pads?) Now, women's bike shorts contain chamois pads wider than men's. While the sole purpose of this pad is to protect the area from chafing and prevent the growth of bacteria on the surface, ensure the chamois pad has a hydrophobic surface to ensure it stays dry throughout. This can be ensured by checking the pad for an antibacterial, silver, or carbon ion finish!
3. Thickness of the Chamois
You want to ensure the thickness of the chamois pad matches your requirements. While it is used to cushion the pelvic area and prevent the growth of bacteria, there are various thicknesses and densities this pad comes in. How do you know which one to choose? If you are on the heavier side and are more prone to chafing, make sure the thickness is more. While, if you're on the lighter side, you won't need that thick a pad, which would actually result in an uncomfortable fit. It's all relative!
4. The Question of Maintenance
Once you've figured out what material you want to go with (cotton, lycra, spandex, etc.), you have to remember that bike shorts for women are not your average street shorts. You cannot merely toss them in the dryer. After machine washing them, it is recommended to hang them out to dry. This helps increase the longevity of the rubber lycra spandex, which is knitted into the shorts for your comfort.
We hope you now know a little bit more about bike shorts for women than you did before clicking our page. Remember, it all boils down to your priorities and what you like! Keep these extra factors in mind, and you'll find the perfect pair in no time. Happy shopping!