Five Good Reasons to Use Mesh Tote Bags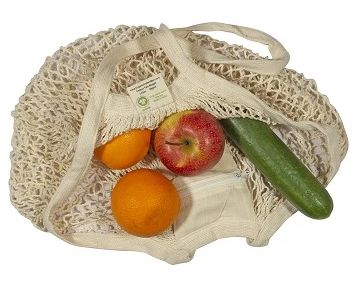 If you are a regular at your neighborhood farmers' market; you must have seen people carry mesh tote bags and mesh produce bags with them. More and more people are now ditching plastic carry bags and opting for reusable bags. There are various reasons for this growing trend.
Here are five good reasons to use mesh tote bags.
1. Utility
Of course, the top reason to use any item is its utility and value. Mesh tote bags are ideal to carry your groceries. Mesh is quite strong. If you buy a sturdy mesh bag then you can use it to carry quite heavy loads as well.
You can use mesh bags to store fresh vegetables such as potatoes and onions. Simply tie the handles together and keep the bags by the kitchen or in your pantry. Mesh tote bags are also perfect to store apples, pears, or plums. You can wrap them in the bags and store them in the refrigerator. For this purpose, it is best to keep some cleans bags for home use only.
You can even use a mesh tote to store kitchen napkins, sheets, and other stuff to save space in your cabinets.
2. Versatile
You need not restrict the use of mesh tote bags to grocery or other household shopping chores. You can use one to carry extra books. Hang one in your room to store your used clothes. Use it as your beach bag. Take one to the picnic with friends and family. Use one when you go shopping at the mall. You can use it as you like.
The shape of the bag and its sturdiness makes mesh tote bags really versatile to use. If you buy a mesh bag with strong handles; it will be comfortable to carry on your shoulders. You won't need to drag it or try to lift it uncomfortably.
3. Environment-Friendly
One of the top reasons to use mesh tote bags is that these are made with eco-friendly material. Everywhere people and governments are making genuine efforts to reduce plastic use. Mesh tote bags offer an excellent alternative to plastic bags. If you care for the environment – the planet and its oceans; use of mesh bags in lieu of plastic ones is an effort in the right direction.
Look for mesh bags made with organic cotton. Organic crops are grown without using chemical fertilizers. So, you will know that the soil was not harmed in order to grow the cotton used in your bag.
It is also best to buy such bags in natural colors. If the bags are in white or natural color; it means that no harmful dyes or chemicals have been used to make them.
By making the choice to use cotton mesh bags, you will be doing your bit for the planet and its future citizens.
4. Economical
As it is, mesh bags are not expensive to buy. Mesh is also durable. So, if the bags are made with reinforced stitching; expect it to last for a long time.
Due to the low cost of these bags, you can buy several tote bags and use them for different purposes. You don't need to use the same bag for your groceries and other personal chores. You can also keep one (or several) in your car in case you might need one suddenly.
Mesh cotton bags are also easy to wash. So, you can get quite good use from one bag without having to discard it. You don't even need any special detergent or chemicals to clean mesh bags.
5. Stylish
You don't need to use dowdy or drab bags just because you want an eco-friendly option. Mesh tote bags look stylish and pair well with any outfit. More so; using environment-friendly bags is all the rage now. So, you can be your stylish best by using mesh tote bags or mesh produce bags.
Tote bags are always in fashion. Use one made with organic cotton, and you can take your style quotient even higher.
So, are you ready to go shopping with your new mesh tote bag?