A Brief Look at Automatic Watch Winders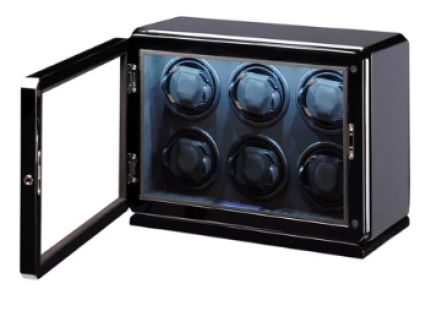 An automatic watch winder is a specially designed device used to keep a mechanical watch functioning when it's not worn. Typically, automatic watches perform their job on the theory of self-winding mechanism while using a moving weight placed inside the watch. The weight swings or spins as the watch is worn, and it activates the winding system of the watch. Therefore, if the watch is not worn, it no longer receives its needed power and will get stopped.  Even though all mechanical watches can be wound manually, it's not convenient for the owner of the clock at all times. This is where; the necessity of a watch winder comes into the picture.
To keep your mechanical watch functioning while it's not worn, all you've to do is to keep all your mechanical watches in the automatic watch winder box. This way, users of automatic watches can keep them functioning seamlessly all the time, and this effectively increases their lifetime to a great extent. In fact, the internal mechanism of watch winders has the capability to mimic the sense of the movement of our watches at the time when they're not worn. Nonetheless, it is not possible for an automatic watch winder to over wind our watches as because all mechanical wristwatches contain a special kind of mainspring which cannot come to the end of this spring. Almost all watch winders are having some kind of timer in them, and therefore they can operate for a specified time period. Then they discontinue their function for something and once again restart their job.
Do you need an automatic watch winder?
Obviously, especially when you have more than one mechanical watch, then having a watch winder is a great idea. Perhaps one of the biggest advantages of the automatic watch winder is that it'll continually keep your automatic watch run on time while enabling you to get your watches always in ready to wear status. It also keeps the day and date function of the watch working properly. Thus you are no more required to reset your automatic watch and can wear it anytime you want.
Points to Consider While Buying a Watch Winder
Depending on your budget, you can go for wonderful watch winders made from high-quality materials with elaborate design or something minimalist yet functional. For this, you need to consider certain factors as stated below, while buying a watch winder:
Appearance
There's no denying that appearance plays an important role in buying a watch winder. Those who are watch lovers, and collect varieties of watches of global brands, would definitely not want to keep their valuable collection of watches in a certain old box that simply devaluates the beauty of your great collections.
So, if you like to display your valuable watches, always think about buying watch winders offering high-quality presentation. You can find varieties of great watch winders made of wood, leather, and metals with super finishing, which are principally well-suited for displaying valuable watches. Aside from major watch stores, you can find online retail houses and major dealers to present their range of automatic watch winders to attract potential customers.
Storage
Aside from keeping your watches accurate, there are ranges of winders with multiple platforms or added storage for buyers to store and display your watches. So, you have more than one or multiple watches, consider purchasing a winder with numbers of storage space. Storing your watches in winders also prevents them from getting lost and safe from environmental issues like dust, humidity, and moisture.
Sound
It is always better to stay away from buying cheap quality watch winders that tend to produce an odd, extremely loud sound while spinning. So, before investing in your watch winder, evaluate how silent it is when in operation. If you buy an automatic watch winder online, try to get through the product reviews. Having proper research before procuring them is a must for you.